Nanoparticles supported on non-modified cellulose films
26 October 2018 - 14h30

-

16h00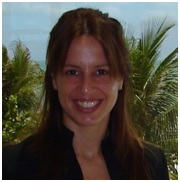 Fernanda Ferraz Camilo
Universidade Federal de São Paulo – Brazil
http://www.researcherid.com/rid/L-2591-2013
The application of nanomaterials as a powder or dispersion has several limitations such as difficulty in solid-liquid separation and in reuse and aggregation in the medium. An alternative to overcome this problem is to anchor the nanoparticles in suitable matrices. Cellulose films, obtained from renewable source, is an interesting material for use as support for nanomaterials due to its low cost, abundance, biodegradability and non-toxicity. In this presentation, we will show the production of conductive films based on a combination of cellulose film with silver nanoparticles and a conducting polymer, polyaniline [1]. Also, we will present the immobilization of other silver and manganese dioxide nanoparticles aiming the production of curatives with cicatrizing and bactericidal activities and catalysts for the degradation of indigo carmine, respectively.
*****************************************************************
[1] R. da S. Oliveira, M.A. Bizeto, F.F. Camilo, Production of self-supported conductive films based on cellulose, polyaniline and silver nanoparticles, Carbohydr. Polym. 199 (2018) 84–91. doi:10.1016/j.carbpol.2018.06.049.