European HORIZON 2020 Project
Projet NAIADES
(Na-Ion bAttery Demonstration for Electric Sorage)
The NAIADES project is one of the first large research projects developing a sodium-ion (Na-ion) battery for stationary electric energy storage (EES) applications and aims to demonstrate it under realistic conditions as an effective alternative to the lithium-ion (Li-ion) battery.
The overall purpose of this project is to develop a battery technology based on the sodium ion technology for sustainable EES that would bring a radical decrease in cost with respect to the lithium ion technology while ensuring sustainability and performance in terms of safety, cycle life, and energy density.
The concept of the project is based on two complementary approaches : the former focusing on developing the materials and the latter on developing the system. In the framework of the project, the Na-ion battery will be developed up to a module demonstration in a realistic application environment, based on the knowledge and successes accomplished at the laboratory scale. The work encompasses developing all the battery components, i.e. active materials and electrolytes, final electrodes and electrochemical cells, as well as the battery management system. A 1kW Na-ion cell model will be tested in a grid environment at substation level. By the end of the project, a full electricity storage system based on the Na-ion battery will be developed.
The new battery has a huge potential for reducing costs compared to the already mature and widespread Li-ion technology. An increasing demand for lithium, and the challenges posed by its extractions, will further emphasize this difference. As sodium is widely available and low-cost, sodium-based batteries could meet the energy storage needs of the electricity grid and therefore facilitate the use of renewable energy sources. The project is also elaborating policy proposals on how to integrate the Na-ion battery in smart grids and promote renewable energy in the electric network.
Several European industrials, institutes and universities are involved in this project which is coordinated by CE (http://www.naiades.eu/). IS2M is involved in two work packages devoted to the development of negative electrode based on eco-friendly hard carbon and to the understanding of the key parameters influencing the Na-ion battery stability and cycle life.
The first prototype of a sodium-ion battery developed in the framework of Naiades project has been revealed recently (https://news.cnrs.fr/articles/a-battery-revolution-in-motion).
Contacts at IS2M
Camélia Ghimbeu
camelia.ghimbeu@uha.fr
Projet ITN
PHOTO-EMULSION : Towards Next generation Eco-efficient PHOTO and EMULSION Polymerisations
The polymer industry is going through one of the most significant periods of change in its history. Driven by new environmental regulations, the development of eco-e cient processes and zero-VOC products has become an absolute necessity. In this eld, 2 technologies stand out : Polymerisation in dispersed media and Photopolymerisation. To maintain EU leadership in this sector, PHOTO-EMULSION aims at training a next- generation of 8 Early-Stage Researchers (ESRs) who can push towards new eco-friendly polymerisation processes. Our primary strength is a demanding technical knowledge base bringing together, for the rst time, all disciplines related to these 2 strategic elds. Secondly, we will broaden traditional doctoral training by targeting transferable and specialized skills sought after by the employers, and learned through innovative methods : tandem ESRs, distance language learning, ESR as itinerant science educator, online courses, ESR-led subproject, highly interactive meetings, and industrial secondments. In research, we will develop a "hybrid" next-generation technology based on thiol-ene photopolymerisation in dispersed media. Advanced manufacturing based on photoreactor promises a wave of high sulfur content dispersed products ( lms, nanoparticles, porous networks). Their outstanding properties open the door to applications responding to current Industrial needs such as non-leaching materials, O2 barrier and biobased waterborne coatings, biologically-active particles, hybrid nanosensors and monolithic chromatography column.
PHOTO-EMULSION is a EU-funded "Innovative Training Network" (ITN) project of the H2020 programme.
Led by IS2M (Dr. Abraham Chemtob), it involves a high-quality research network including 8 internationally reputed academic institutions, 4 leading companies and 2 non- pro t organisations. Balanced & EU-wide, its diversity expresses through the participation of 8 countries (Austria, France, Germany, Ireland, Poland, Slovenia, Sweden & Spain), 50 % female scientists-in-charge, and structures supporting gender equality.
Contacts at IS2M : abraham.chemtob@uha.fr, julien.poly@uha.fr
In the European ITN project, our idea is simple : to publish all of our course materials online and without charges, to make them widely available to everyone.
INTERREG V NANOTRANSMED
Innovations en Nanomédecine : du diagnostic à l'implantologie
Un projet européen
NANOTRANSMED est un projet européen cofinancé par le programme INTERREG V Rhin Supérieur et porté par un consortium franco-allemand-suisse. Il répond à l'objectif spécifique 3 du programme INTERREG VA Rhin Supérieur  : «  Augmenter le nombre d'applications et d'innovations développées par des consortiums transfrontaliers du Rhin supérieur  ».
NANOTRANSMED permet à des chercheurs de laboratoires allemands, français et suisses de développer conjointement des applications et des innovations dans le domaine de la nanomédecine.
Il a commencé en 2017 et se poursuivra pendant 3 ans. Il implique 8 laboratoires de recherche dans les 3 pays dont l'IS2M (coordinateurs scientifiques  : Karine Anselme, Arnaud Ponche).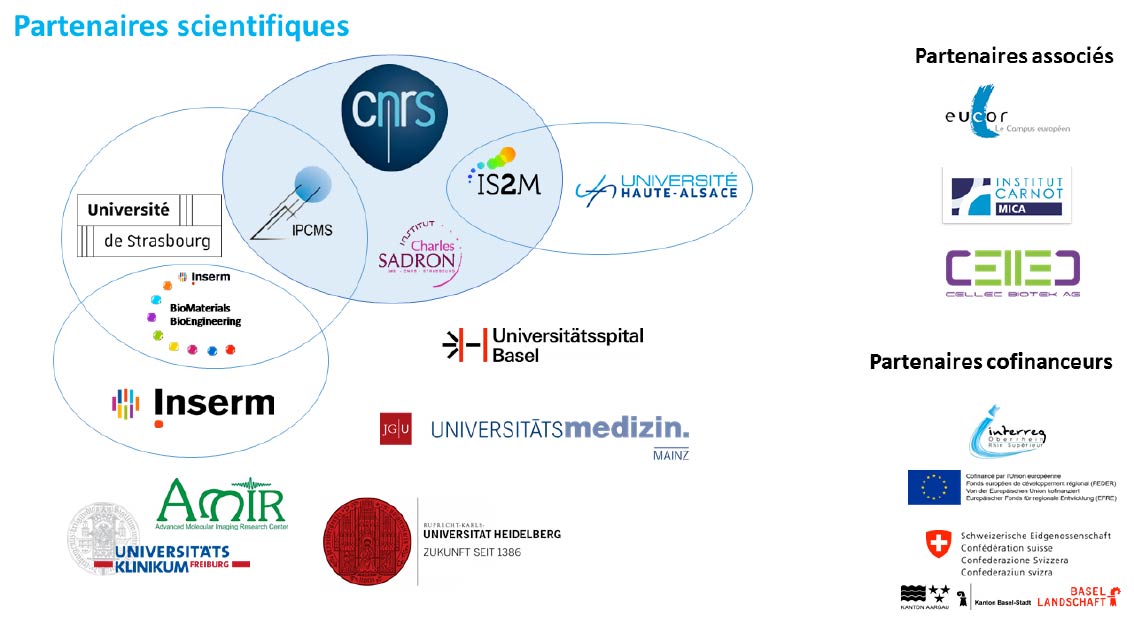 Un projet de nanomédecine innovant
Les applications des nanosciences et nanotechnologies à des fins biomédicales et cliniques suscitent de fortes attentes. Sur la base de nouvelles approches rendues possibles par le recourt à des nano-objets, les chercheurs visent à développer, architecturer et améliorer des nano-objets biocompatibles et innovants (de type sondes circulantes ou revêtement d'implants) en leur conférant :
Des capacités de ciblage spécifiques
Des propriétés antibactériennes
Une stabilité in vivo accrue
Des propriétés de furtivité pour échapper au système immunitaire
Une toxicité réduite.
Le consortium du projet NANOTRANSMED s'attache notamment à répondre aux enjeux du diagnostic précoce et du traitement personnalisé de maladies graves comme les cancers, les maladies neurodégénératives et les inflammations ainsi qu'aux enjeux de la lutte contre les infections nosocomiales, contractées par 5 % des patients hospitalisés.
Projet ERA-NET MED
Procédés de traitement durable des effluents de l'industrie textile pour la réutilisation de l'eau en agriculture
Projet européen de coopération entre les pays européens et méditerranéens
15/04/2016-15/04/2019
La pénurie en eau est une préoccupation cruciale à court terme dans les régions méditerranéennes soumises à un climat aride, et où les ressources en eau sont surexploitées, notamment dans l'agriculture et les industries textiles. Le traitement des effluents est une préoccupation majeure pour l'environnement et la santé humaine, car les eaux usées, même traitées selon les procédés classiques, contiennent encore des polluants et du sel.
Par ailleurs, la composition des effluents de l'industrie textile est complexe, et nécessite le plus souvent des procédés combinés impliquant plusieurs méthodes physico-chimiques pour obtenir une eau traitée de qualité. L'adsorption sur le charbon actif est une technique de traitement classique, mais qui n'est pas pleinement efficace, et surtout coûteuse. Une des alternatives serait d'utiliser des matériaux adsorbants innovants moins coûteux et des procédés physico-chimiques couplés à l'adsorption.
L'objectif du projet est de grouper les compétences, de tous les pays Méditerranéens, qui conduiront au choix des procédés les plus efficaces pour atteindre une qualité de l'eau aux normes des pays méditerranéens, et les meilleurs modes de valorisation ou inertage des déchets solides. Les possibilités de mise en œuvre au niveau industriel seront étudiées, tout d'abord à petite échelle en tenant compte des aspects environnementaux et économiques, par une analyse du cycle de vie et une analyse des coûts. La réflexion sera ensuite menée pour un scale-up à l'échelle du semi-pilote.
Les résultats obtenus vont améliorer nos connaissances, d'une part, sur les mécanismes de dégradation des molécules organiques en fonction des processus physico-chimique ou biologique impliqués, et d'autre part, sur les processus d'adsorption et de rétention du sel, sur la modélisation des transferts en milieux poreux, et sur l'inertage/valorisation des déchets solides. En outre, les résultats de ce projet vont nous permettre d'atteindre les normes de l'eau pour une réutilisation dans l'agriculture en mettant en œuvre des processus durables de traitement d'effluents textiles. Par ailleurs, sur le plan technologique, les résultats du projet permettront de proposer plusieurs procédés de traitement innovants, en fonction des prétraitements industriels et de la nature des effluents, afin d'avoir un système généralisé qui pourrait bénéficier à d'autres industries du textile, et d'autres pays.
Coordinateur : Duplay
Responsable scientifique IS2M : Amane Jada
Contact IS2M : amane.jada@uha.fr
Acronyme : FERTICHAR
Titre : Recovery of olive oil by-products through bio/hydrochars production for agricultural soil fertilization and environment preservation
Responsables : Camélia Ghimbeu/Mejdi Jeguirim
Résumé : In the Mediterranean region, olive mills produce huge amounts of olive mill wastewaters (OMW) as well as solid wastes (OSW) that are very rich in nutrients (especially K, N and P) and organic matter, respectively. Taking benefits from these two types of liquid and solid wastes in agriculture without health and environmental risks will certainly attenuate the climate changes negative impacts. For this aim, recently, in the frame of a well established collaboration between the French (IS2M and RITTMO) and Tunisian (CERTE) partners, Haddad et al. (2017) established a strategy for the recovery of the OMW. This strategy includes an impregnation of OMW on lignocellulosic biomass (sawdust) followed by a controlled slow pyrolysis step. This innovative strategy proved that it is possible to turn OMW from a pollutant source to green fuels, agricultural water and biofertilizers (nutrient-enriched-biochars) producer. Therefore, FERTICHAR will be the continuity of this innovative work and its main aim will be the environmental and agricultural valorization of nutrients-enriched biochars (slow pyrolysis) and nutrients enriched hydrochars (hydrothermal carbonization) from impregnated OSW (instead of sawdust) by OMW. FERTICHAR includes 5 partners form countries producing very high olive oil amounts : Spain (greatest producer in the world), Greece, Tunisia (greatest exporter) and France. The young researches implicated in this project have complementary roles and multi-disciplinary expertise. FERTICHAR is the first project to develop the use of nutrients-enriched-chars produced from olive mill wastes' thermal treatment for a sustainable agriculture development and environment protection. The originality of this project is to adapt a complete processing chain, based on an innovative and environmentally friendly solution, to a particular environment challenge taking into account socio-economic aspects. The innovative production practices and measures will be demonstrated in field in the network of production systems. Indeed, nutrients-enriched-chars will be amended to agricultural soils cultivated with olive trees (circular economy concept) and high economical-added-values crops with the main objectives of : i) preservation of the natural resources since the use of synthetic fertilizers will be significantly reduced, ii) carbon sequestration and attenuation of climate changes, iii) growth of soil's carbon contents, iv) important local socio-economic development thanks to the dynamic implication of the key stakeholders. Nutrients release, and pesticides retention from/by these chars will be modeled by an appropriate geochemical model and its outputs will be confronted to the experimental measures. FERTICHAR is structured in 7 work packages (WPs). Besides the coordination and quality assurance (WP1), the scientific work, related mainly to the characterization of the produced OMW and OMSW and the derived chars, the valorization of the formers for agricultural and environmental purposes (WP2-6), a separated WP was dedicated to exploitation, communication and dissemination of the main outcomes which are the result of co-generation of knowledge and co-innovation through the active cooperation with key stakeholders (farmers, farmer associations and local/regional actors). The wide geographic coverage of project partners will facilitate the access to international initiatives, pan-European and North African networks dealing mainly with the large sustainable development thematic. Moreover, for maximizing the project impacts, exchange of researchers and students will be also the core activities for innovation transfer. Specific convivial actions and tools (conferences, workshops, website…) will be organized/developed.Finally, the good management and implementation of FERTICHAR will be ensured thanks to active collaboration between the project coordinator, work packages leaders team (WPLT) and an external experienced advisory board.
Crédits pour l'image ci-dessus :  V.Guilly/CEA
IS2M
Bâtiment CNRS
15, rue Jean Starcky - BP 2488
68057 Mulhouse cedex
Bâtiment IRJBD
3 bis, rue Alfred Werner
68093 Mulhouse cedex
tel: (+33)3 89 60 87 00
fax: (+33)3 89 60 87 99
Réseaux sociaux
IS2M
Bâtiment CNRS
15, rue Jean Starcky - BP 2488
68057 Mulhouse cedex
Bâtiment IRJBD
3 bis, rue Alfred Werner
68093 Mulhouse cedex
tel: (+33)3 89 60 87 00
fax: (+33)3 89 60 87 99
Réseaux sociaux
IS2M
Bâtiment CNRS
15, rue Jean Starcky - BP 2488
68057 Mulhouse cedex
Bâtiment IRJBD
3 bis, rue Alfred Werner
68093 Mulhouse cedex
tel: (+33)3 89 60 87 00
fax: (+33)3 89 60 87 99
Réseaux sociaux