Détermination du travail réversible d'adhésion à partir de courbes de forces de mouillage
25 November 2022 - 14h00

-

15h00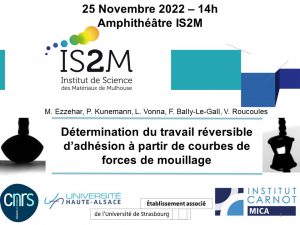 L'Institut de Science des Matériaux de Mulhouse (IS2M) reprend son cycle de séminaires intitulés « Séminaires Didactiques ».
Les séminaires didactiques de l'IS2M ont pour objectif d'être accessibles aussi bien à des auditeurs non spécialistes qu'à des auditeurs plus experts dans le domaine.
L'objectif est de permettre ainsi à tous les auditeurs de comprendre l'objet des recherches présentées.
Ces séminaires didactiques seront programmés les derniers vendredis du mois et auront lieu en hybride dans l'amphithéâtre de l'IS2M et par visioconférence (https://uha.webex.com/meet/benedicte.lebeau).
Tous les étudiants en thèse de l'IS2M doivent y assister dans la mesure où ces séminaires très « didactiques » sont mis en place notamment pour eux afin de leur permettre d'acquérir des connaissances pluridisciplinaires.
 Le prochain séminaire didactique aura lieu le vendredi 25 novembre à 14h (voir annonce ci-jointe).
 The Mulhouse Materials Science Institute (IS2M) is resuming its cycle of seminars entitled "Didactic Seminars". IS2M's didactic seminars aim to be accessible to both non-specialist and more expert attendees in the field.
The objective is to enable all listeners to understand the purpose of the research presented.
These didactic seminars will be scheduled on the last Friday of the month and will take place in hybrid in the IS2M amphitheater and by videoconference (https://uha.webex.com/meet/benedicte.lebeau).
All IS2M PhD students must attend these « didactic seminars » which are designed notably for them to acquire multidisciplinary knowledge.
 The next didactic seminar will take place on Friday 25 November at 2 pm