IS2M annual meetings
2 June 2022 - 12h30

-

3 June 2022 - 12h30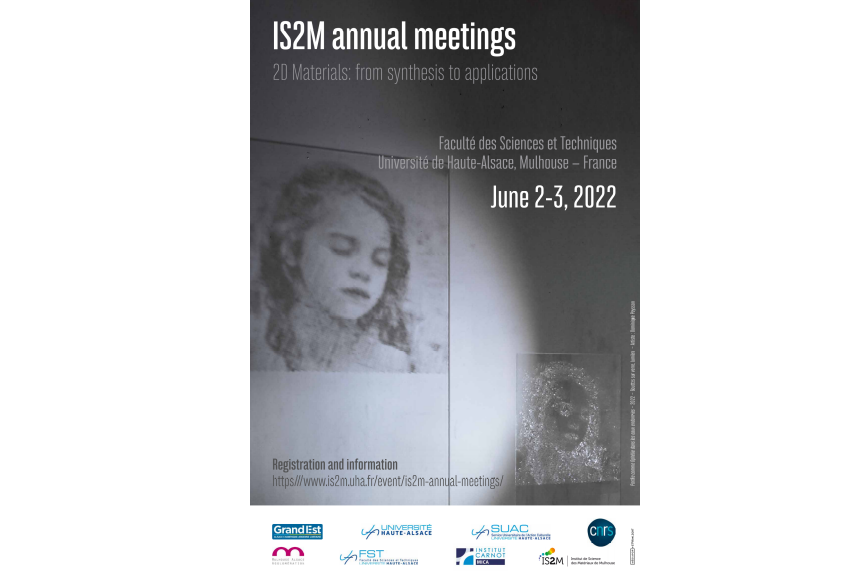 "God invented the volume and the devil the surface" This quote from W. Pauli, one of the founding fathers of quantum physics, about crystals is well known to all scientists who are interested in the mechanisms / properties revealed on the surface of amaterial. What would he have told us about a material which is only a surface and has the thickness of an atom ? This is the case of graphene and many other 2D materials, in contrast to 3D bulk systems, and which can be combined on top of eachother by stacking. In this IS2M annual meeting on 2D Materials, we aim to have a broad multidisciplinary approach in physics, chemistry and material science to explore the state of art 18 years after the discovery of graphene. We wish to investigate 2D layers made of graphene – and other materials –, combined with systems exhibiting another dimensionality (0D, 1D, …) in so-called Van der Waals heterostructures, but also functionalized by different methods, and present their potential applications. As IS2M is a wide multidisciplinary laboratory devoted to materials, we also aim to explore the change of properties relatedto the decrease of dimensionnality from 3D to 2D for a wider class of materials such as, for example, the characteristics ofwater/ice confined in clays, or of 2D-Metal-Organic Frameworks (MOFs), to name but a few."
A poster session is scheduled during the evening Buffet.
If you wish to present your work (more or less related to the main topic), we advise you to put your picture on the poster, so that you do not have to stand in front of it all the time.
For registration, please contact : laurent.vonna@uha.fr and send him your abstract if there is a poster.
Keynote speakers
Vincent Bouchiat, Institut Néel, Grenoble
Jean-François Dayen, IPCMS, Strasbourg
André Gourdon, CEMES, Toulouse
Klaus Leifer, Ångström Laboratory, Uppsala University, Sweden
Laurent Michot, Laboratoire PHENIX, Sorbonne Université, Paris
Geoffroy Prévot, Institut des NanoSciences, Paris
Paolo Samorì, ISIS, Strasbourg
Scientific and organizing committee
University of Haute-Alsace – Institute of Materials Science of Mulhouse, CNRS
Jean-Luc Bubendorff, Gérald Chaplais, Marion Cranney, Liva Dzene, Marie-Christine Hanf,
Laurent Simon, Olivier Soppera and Laurent Vonna